Lynn Nielsen Sherlock
Just wanted you to know what a great job I think you're doing. Looking over all those wonderful activities brings a tear to my eye, mostly because I cannot attend! It does sound like great fun, I wish I could be there. My new store is opening the first of October. If anybody gets up this way it's Serendipity Quilts & Crafts, 1977 Central Ave., McKinleyville, CA (about 15 miles north of Eureka). This will be the last time I DON'T attend, I most definitely will be there next time. Hope you all have a wonderful time, as I'm absolutely sure you will. Hope to see you someday soon.
---
Virginia Floyd Pitts
I love Classmates.com. Please send me a message just to say HI. I lived in Simi Valley for 20 years. Now I'm divorced and live in Encino with my two grand sons. I would love to hear from everyone in the class of '66
---
Christine Mulford Scholten
It is not unusual that you do not have my name on your list of June 1966 graduates! During our junior year I was selected as an American Field Service exchange student and I spent my senior year in Zürich, Switzerland. I have been living overseas since 1969 and Paris is currently home.
---
David Doolittle
my business web site... amerimusicproductions.com
---
Ruth Klinger Cisowski
What ever happened to Miss Jung, German Teacher? Serves on the Board of Directors of "Cattle Drivers and Chicken Ranchers Unite!"
---
Susan Farrell Moreno
I live in Ocala, Florida.My husband and I breed horses.
---
Chris Bergen
Anyway, as much as I'd like to attend the reunion (I really am curious about everyone), I'm afraid I won't be able to. I'm one of very few members of an unusual profession: opera translating for what they call supertitles--translations shown above the stage or on the backs of the seats during performances. I do it for the Metropolitan Opera, the Santa Fe Opera, Los Angeles Opera, and a lot of other companies. Since high school I learned French, German, Italian, and Russian, which suits me for that weird job. Anyway, October is when things really heat up for me, making it hard to leave New York. I'm on my second marriage, no kids, live with my wife, dog, and cat in a house ten miles outside of NY in Montclair, NJ. After getting a master's in history from Yale I worked at the UN in Vienna, Austria, then came back to the states and decided I wanted to work in the arts, and got the job as translator at San Francisco Opera, where I worked for thirteen years. In 98 I moved east, and there you have it. Also, now it can be told: in high school I was hopelessly in love with Sandy Malloy (now Klein, I think?). All the best, Chris
---
Victoria Adam Noriega
Hi guys! What a kick to find you on my computer this morning! Sorry I will not be attending the reunion…. I am director of Undergraduate Studies in Psychology at the University of Miami. I moved here 25 years ago…have two boys, one a lawyer in New York and one just graduating from University. Am divorced but happily attached to wonderful Englishman, David Have two dogs and a cat. October is the time when I advise students and won't be able to get away. Thanks for all of the hard work you have been doing.
---
Tom Neff
Married , 2 sons Cory -5 years old and Michael - 3 years old. One son and one daughter by previous marriage. Postal worker for 29 years. Wife Elaine also works for Postal Service. Would like to see Mr. Glass (science teacher) and Mr. Gregory (art hist. teacher).
---
Dana Sindell
I was in the drama classes at VNHS and was a member of the Thespians and Masquers clubs, as well as the Pegasus Literary Club. I have been married since 1975, I have a 22 year old daughter and two adorable grandchildren (6 years old and 1 year old).
---
Judy Galati Wallace-Petty
Great site! Haven't seen it all yet, but what I have seen is wonderful. My complements. If you need any help from a remote person, I'm available. Please let me know what I can do to help make this reunion even better than the last one.
---
Stuart Schlachet
I'm looking forward to reuniting with some of my friends whom I lost contact with. I have some very fond memories though. I hope they will be at the reunion.
---
Harriet (Tari) Van Alstyne
We are in the throws of house repairing and packing and then moving so probably won't make the reunion--thanks for the info.
---
Wade Steinfeld
Bio: Investigator, State of California
---
Gina Stage Smith
I was a late comer who came to join from the class of w67. My husband and I are living on Whidbey Island. We are just a suburb with a mote! (of Seattle) I have two children.A daughter 25, and a son 21. We have been living in the Pacific Northwest since l984.
---
Robbie Bauler Grenn
Hi everyone!!! I have lived in the Conejo Valley since 1972. I currently teach for the Conejo Valley Unified School District. At the age of 50, I ventured back into the university setting and received a Masters of Education, in Curriculum and Instruction from California Lutheran University. I currently teach at Cypress Elementary School in Newbury Park, Ca. My children are grown and practically on their own. Jen is 26, Steve is 23, and Scott is 22 years old. I am getting younger at heart everyday. How about you? Miss you all!!! Love, Robbie
---
Shirley Roe
I don't think I will be in the area in October, but please keep me posted on details. Thanks. Prof. Shirley A. Roe Department of History University of Connecticut
---
Diana Skinner
Living in a small town, Fernley, Nevada, raising 3 wonderful children. Full time "Mom" and part time teacher. I have my masters degree from UC Berkley. I traveled the world for a few years (before children) spending time in Africa, South America, Australia, New Zealand. I rode my bicycle across the USA and other places. Never a dull moment.
---
Chris Moore
Thanks for the trouble of finding everyone!
---
Kathleen Gerry
Unfortunately I won't be able to attend the reunion this year - hopefully I can be at our 40th.Thanks for the wonderful web site - brings back a lot of memories!
---
Warren Fine
This is a great web site.Hope to be at the reuion.
---
Manny Chinchuck
Rock'n'Roll musician 17 years
---
Pauline (Polli) Grosso Lovato
Wow! What a treat to find everyone! Brings back lots of memories I,m living in Prescott Valley,Az and am married again (every one has one major error..)happily. have a 28 yr old son (George, he's married and he has 2 wonderful kids and I have a 13 year old daughter at home. Boy, thats a treat! Hope to see you all.
---
Peggy Wilkerson Kaesberg
Married to Nelson Kaesberg, class of 1960, he was a cradle robber! We have called Washington home since 1971. We have 2 daughters and 5 grandchildren, with a new one due in Dec. Housewife, but I have a small side business of decorating terra cota pots, using floral napkins. They are sold here at Albertsons. My passion is working in the yard and doing the other homes in the neighborhood. Like my father I have a love of dirt. // Have been retired for several years. My husband, Nelson Kaesberg, class of '60, passed away in 2012. We were living in Az., hated to leave, but I wanted to be by my Heather and Caroline and all the Grand Kids. Still have figured out what I want to do when I get "Old!"
---
Mary Savidge Swarat
Married in 1967. Moved to North Idaho in 1973. Married for 34 years. Music Major. Two daughters, one married, the other finishing undergrad.
---
Linda Schapiro Hotz
This is a great site! I am going to look at pics next. Giggles:) Looking forward to see everyone. Thanks Jim! Linda
---
Donald Browne
Regrets on the reunion Saturday night - I'll be flying back from Washington. Maybe the picnic.
---
John Kasee
Great job on the site. The Memorial Page was a very nice thing to do for those kids. Take care.
---
Cindy Pardo Swaisgood
Divorced with one son. Currently; Customer Service Manager for the City of Los Angeles One-Stop Workforce & Industry Center, Canoga Park, CA.; additional responsibilities, Grant Writing, Marketing. Co-founder non-profit " One Voice" Interests:tennis, golf, fundraising, dancing and excitement.
---
Valerie Anderson Conners
I have been living in beautiful So Lake Tahoe since 1972, I have one daughtor Leslie she is 34 now, and 3 grandkids 10,7 and 5 years old. I have been married to Lewis for 19 years now, we own a small home in So Lake Tahoe with a huge garage for some of the great toys we have collected in our years together. I have had my own business for 17 years now, Skin & Hair Wellness Center and Spa. I have been in the beauty and health field for over 30 years,Skincare, Massage Therapy and Hair care are my specialitys. I enjoy all kinda of outdoors activitys one or two for each season. I am Looking forward to seeing every one again I missed the last 2 reunions.
---
Jere Donohue
If I hadn't moved in the middle of my Junior year I would have graduated with the S'66 class. I appreciate you're efforts - the site is nicely done. I would be happy to get information on old friends and classmates, but I did not graduate from VNHS.
---
Marian Crain Zwolinski
Hi, to anyone and everyone, I am alive and well, in Southern Ca. I should have taken Spanish more seriously. Darn!! Holli B. do you remember me? We sang at our Jr. High Graduation, "When you walk thru a Storm", with Claudia?.
---
Janet Voelzow Daniels
I am married with two great children, ages 18 & 15. I traveled extensively prior to marrying, moved to Northern California and have lived in the Tahoe-Truckee area for the past 21 years. I have worked as an Elementary Teacher and am currently working as a teacher with a Homeschool Charter
---
Sandy Mohr
Has lived in Hawaii for past 14 years. Married to wife, Tina. They have twin daughters, Natalie and June, ages 8 years old. Enjoys life in the mid-Pacific with his family including beloved Basset Hounds, Cleo and Dr. Watson.
---
Steve Wachs
Picnic on the quad?!?! Wow that's SCARY! Actually very cool.....Congrats to whoever got THAT ONE thru... Now, can we get those sweet rolls...???? Take care Steve // After 40 years of wandering in the desert (Tucson, Albuquerque & Phoenix), I returned to Southern California a few yrs ago to be closer to kids/ grand kids who had moved here. Looking forward to seeing OLD friends at the (50th) reunion!
---
Arlene Goldstein Weingart
It's been great fun going back in time thanks to your various communications. I've been married to Alan, whom I met at UCLA, since 1970, moved to Switzerland in 1973 and became a lawyer here in 1979, had 2 womnderful kids in 1985 (Sarah)and 1989 (Jeremy). I would like to come to the reunion but it's a long trip for a week ! We'll see. Thanks for all your efforts, Arlene
---
Susan Mclaughlin Muir
thanks for all your hard work. I'm looking forward to it.
---
Bronwynne Roberts Shortall
married 32 yrs, five children own our own business
---
Charlene Buckley
After working in the fine jewelry business for 25 years, I started a new career working at the Autry Museum of Western Heritage in Griffith Park in 1997.
// ( I ) Relocated to Oregon in 2002. Now working as the curator at the Museum of the Oregon Territory in Oregon City.
---
Bill Johnson
Still racing sailboats after all these years. I live a few houses from the water and I keep my 35' boat "Despicable" close by.
---
Nancy Meade
I hope someone can find Kenny Hawk!!
---
Suzanne Kraus Sheldon
After graduation I met my husband at UCLA my 3rd week of school. I finished my degree in sociology while he moved to Omaha for Dental School. I moved after our wedding 2 days after graduation and we stayed in Omaha. We have 2 daughters who moved away for college and are back in Omaha with their spouses and our 4 grandchildren. I worked for a while and retired and then worked part time in my husbands office until I officially retired. He has a wonderful practice and loves what he does so he still wants to work yet take time off to travel and relax. I love Omaha (except for the winters-so we get out for a while) but my true roots are still in California.
---
Judy Lloyd Stevens
Spend 1/2 the week in Huntington Beach, and the other 1/2 in Tarzana with my mother - also closer to my brothers and son. Am currently taking a ceritificate course in Medical Transcription.
---
Anita Weinberg Heber
I've been married for 31 years to a wonderful guy named David. We have 2 wonderful kids- a 22 y.o son and a 19 y.o daughter. We have lived in Agoura Hills for 14 yrs. I am a retired elementary school teacher and have been subbing at our local school district for the past 4 yrs. I continue to share a long lasting friendship with many of my old V.N H.S. friends (Vera Pikkel, Linda Kaufman, Maxine Freund, Nina Lipschultz). Aside from getting together as often as possible, we have formed an annual tradition of going away every July for 1 week where we spend a luxuruous week bonding together. I am looking forward to seeing everyone in October!
---
Linda Kaufman Klein
Hi Guys! This is a great way to keep in touch! I'm busy these days planning our daughter's wedding, playing golf and working as an artist (getting paid too!) Life is good! How 'bout you?
---
Bill Dolan
I would have graduated from VNHS but my parents moved. I went to Kester Ave. and Van Nuys Jr. High. I enjoyed looking at all the picture posted at this site. It was great to see all the familar faces, some that i knew so well. I can be contacted through my sister, who computer I'm now using.
---
Jessie Armstrong Cyr
I look forward to being at the 35th! I'm happily married (for over 30 years), no children, own a business with my husband, his brother and wife - tamrac.com - we design and manufacture camera bags and related products (in Chatsworth, CA).
---
Lori Mancini Thompson-Bennett
I never left So. Cal, except for a hippie stint in Monterrey, CA in 1968-69 with Nancy Meade and Co. Married 1st husband, Wayne, had two children, daughter & son. 2nd husband John. I am the Advertising Mgr at Press-Telegram newspaper. Still love to party and dance, bought a VW bug last year. Cal State LB at night working on Eng. Lit degree, forever and love school. Still good friends with Marilyn Reed and just hooked up with Nancy again. Would love to find Jan Mangham. Write or call me anytime.
---
Kerry Zirin
Would love to hear from all you lovely people. Write me and I will write back, I promise. "See you all at the reunion" NO EXCUSES!!!!
---
Dennis Rice
Went to Univ of Alaska in Fairbanks, AK. Now teaching telecommunications at DeVry Institute of Technology. Have been doing telecommunications and teaching for the last 35 years (as of '07). Now have more options for time and be able to attend reunions.
---
Marilyn Reed
Looking forward to the big class reunion. I will get my walking cane polished up!!!
---
Dale Malcolm
Amazing to see that anyone would go to this much trouble to set this "kdlkjasldkjf" thing up. Congratulations Jim et al!
---
Joanne Beggs La Lone
I'm looking forward to lots of contributions to this site..great idea and thanks for your effort...
---
Trudy Macchia Grover
Hi Kids looking forward to seeing/hearing from you. hoping all is well with everyone!
---
Nancy Kaufman
It is hard to believe that it has been so many years. CA).
---
Judith Campbell Mentzer
I have been serving Amish and plain families to have their babies at home. I am a CPM. I have delivered over 1600 babies in my practice. I also own a store geared to the needs of the maternal woman. I live in the mountains on 12 acres of land with my husband Jim. I have 3 grown boys and 8 grandchildren, 1/2 of which I tended their births. I love to travel, garden and can our produce and butchered meats.
---
Ellen Stock Bell
Great to have this web page-thanks to all of you who have worked on it! I can't believe we're this old! I graduated UCBerkeley in Anthropology, have a masters in library science and am a high school librarian, ohmygod! I've been married for 31 years,and have a 23 year old son. I have traveled a lot and read a lot. Our son is married, and has been a snow ski race coach and managed a rock-climbing gym. I snow ski and quilt and am currently revelling in being the grandmother of the cutest 1 and 2 year olds in the world.
---
Michael Veitch
Hi, I'am a Retired Law Enforcement Officer, currently employed as a Nevada State Firearms Instructor. Providing the basis for concealed weapon carry and the use of force for security guards employed in Las Vegas, Nevada. I am really into the world of COWBOY ACTION SHOOTING, reliving the Old West. You can reach me via email anytime:KSopris@aol.com
---
Jeannie Durfee Lenon
I'm not sure you need to know this, but to tell you anyway that I will not be able to make it this time. We raise llamas and alpacas and have some surprise crias (babies) due in about the time of the reunion. But there are other concerns as well. I am so bummed that I'm going to miss it. With all that has happened to us in NYC , it would be such a good opportunity to bond again. Hopefully, I can make the 40th for sure. Best wishes and regrets.
---
Marilyn Bybee Stott
Prior to my senior year, I moved to Escondido and graduated from Orange Glen H.S.
---
Jean Ratcliffe
I've lived in Milpitas for 28 years, where I am an elementary school principal. I have 4 grown children, who are spread across the globe of whom I am very proud. They provide me with great travel destinations. I also have 2 grandchildren and a third expected in January. Kudos and thanks to Kerry and the Reunion Committee. It was the best reunion ever! It was GREAT to see...
---
Jo Ann Worcester Maas
Married to Steve Maas, same class & date. 2 children, Alyssa, 23 getting married on the 27th and Michael, 21. Live in Poway Californa, a suburb of San Diego. Realtor with Mc Millin Realty for over 10 years. Steve was an engineer, now my partner in business as well as life. We're coming with Ben Loveless and his wife, looking forward to seeing someone we know!! See ya Saturday!
---
Linda Roders-Dutra
Look forward to seeing you all. We are blessed to share this event with one another. Thank you Reunion Committee for your kind efforts in planning this event. What a great list of committee members!! Cannot wait!
---
Blanie Bowman
I've been enjoying the web site it is like finding a time capsule, it is fantastic. Since VNHS went to the Marine Corps, 3 years 1 tour Vietnam, wounded Sept. 67 DMZ, Work for the Post Office here in Thousand Oaks can't wait till time to retire. Married 27 years 3 daughters. I got one for you regarding VN Jr. High. Remember Jack Beckner gym teacher. Had been in the Olympics. I remember him doing a routine on the parallel bars thought it was the most awesome thing in the world. Well, at 13 it doesn't take a whole lot. Looking forward to the reunion.
---
Rusty Postel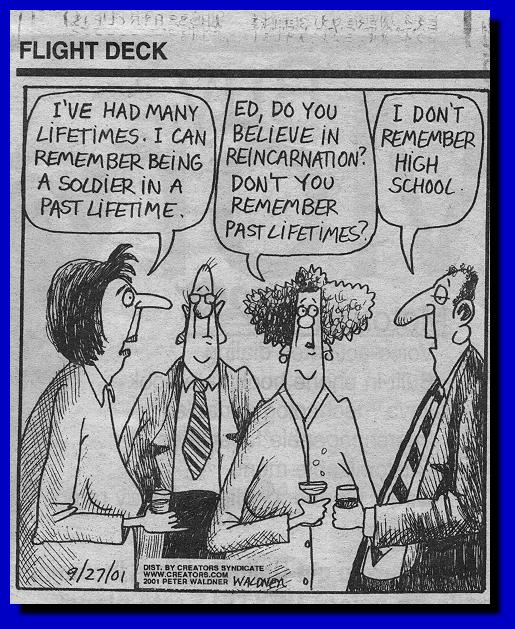 ---
Linda Allen
Sorry I missed the 35th reunion. Did they serve a high fiber dinner? Any teacher still living would be the ones I would recommend contacting. I did become an artist but threw away the brushes and canvases for a computer! Who would of thought? I have a new man in my life....shock! More another time.
More a year later: Great website! It was fun looking at familiar faces and remember the days when... Must be getting old! No, Never!!! This old broad has become computer savvy (shock) and loves to go fishing! I go dancing when I need to vent. I sell on eBay as Saxyssis. That's about it. Would love to see y'all.
---
Pete Kosonen
Enjoyed the 25th, but missed the 35th. I've worked in public education most of my life -- a rewarding profession. Currently a high school principal. Married over 30 years, with children 20 and 23. Have wondered about friends and classmates, Dave Gerber and Mike Curtis. Best regards to everyone.
---
Linda Hunter
I would like to attend our 40th reunion, and have kept in contact with Joan Osborn. I'm a facilitator at Gifford Farm Education Center and work at Neale Woods Nature Center on weekends, and house an American Kestrel (small falcon) for the Omaha Raptor Team. (I've found my calling in the educational field). The Lord has blessed me with a fantastic life, and I am thankful. Please E-mail me!
---
Bill Walker
Thanks for the web page and photos. Its nice to be in touch even if I couldn't be there. Any body coming to South Dakota, give me a call, I'm 70 miles north of Mt Rushmore.
---
Sandra Barrett
I am a Clinical Dietitian at Scripps Green Hospital in La Jolla, I have 2 daughters, 15 and 18. The 18 year old just left for Sonoma State University. I attended San Diego State University.
---
Sherly Albecker Stone
After living in the woods of Mississippi, city of Indianapolis, & farm town/Indiana--we moved back to the valley---Our youngest daughter attended --KESTER AVENUE ELEMENTARY SCHOOL for K,1st & 2nd grades. --(WE HAVE TWO DAUGHTERS)We bought a house in Canoga Park and spent 5yrs there before Larry's job took us to Ivine,CA. Nine years later, my parents health problems dictated our return to S.O. I've worked for Kaiser Permanente for the last 15 year(Woodland Hills, Irvine, and now back in Woodland Hills. We have five grandchildren/ALL--GIFTS FROM GOD:)
---
Linda Junge
What a shock to see my face in the Sherman Oaks Elementary School A6 Class Photo 1960. I'm the girl in the 3rd row #4, the brunett,now with long blond hair. You can check out a poster of me on the internet as The Unicorn Princess, with white unicorn horses and the moon in purple tones. My name has changed and I have a crazy history. I own a 1968 black/silver T-top Sport Coupe Mako Shark 427/435hp Tri-power Roadster Corvette and it takes 100% octane, so I only drive it to shows. I am a licensed radio operator and work as a emergency communications volunteer with the fire department. My career has covered a vast area from working as a professional dancer, model and actress with SAG, AFTRA & Equity to owning my own business, associate producer to a technical writer, administrative, computers, aerospace and defense to city utilities,the fire department and construction fields etc. I remember going to Bob's Big Boy and cruising down Van Nuys and Ventura Blvd with older friends, then going to the drive-in and drag racing on Mulholland Drive and! a group of us would go up to an area called ghost mountain. I went on to attended Van Nuys Jr. High were they had the greasers and surfers. I would love to attend a reunion. I live about 40 miles from the valley.
---
David Kaplan
Went to Kester School, VN Jr High, and VNHS through 11th grade. Graduated from Monroe but will always consider myself a VNHS grad. Am retired and living in Tucson and would like to attend the 40th reunion. Anyone who was in Lucille Flander's 6th grade class at Kester will probably remember what a great year that was! Hope to hear from you out there!
---
Gail Figner
I have recently changed my e-mail address and found this page. I've enjoyed all of the reunions to date and am looking forward to the 40th. It's hard to believe isn't it? I was married from 1968-2002 when my husband died of cancer. No kids. Still a legal secretary since 1967. Looking forward to retirement in 2009 (unless I win the lottery). Good news - I'm getting married on New Year's Eve (Dec. 31, 2004) in Cancun, Mexico. Wonderful guy, Clarke Latimer. We've been together since July 2003. Hope everyone will be able to meet him at the 40th.
---
Cynthia Sherman
I attended Monroe High for most of high school, but finshed my last semester at Van Nuys. It was a great school and a fun time.... Especially "Sports Night" dances held in the Girl's Gym!.....My best friends at Van Nuys were Laura Gottlieb and Valerie Anderson....I noticed that her brother, Roger, attended the 35th Reunion....
---
Mike Purcell
Been awhile since the 25th reunion (my last), so it was great reading the bios of all my classmates to see where people had migrated to. I'm still in the field of science (physics & engineering), solving problems, and traveling. I hope to see a few of you at the reunion in Feb 2005.
---
Eileen Weisz Voorheis
Have been married for 35 years. We have two daughters, 26 & 27. Have been teaching elementary school for the last 17 years.
---
Mary Gentzkow Johnson
Dinner at Marlene's was so fun!
(Marlene's dinner was the Class Winter Fiesta 2005)
---
Virginia Floyd Pitts
Hi, I would love to hear from any of you who would like to e-mail me. It's been a long time since high school, if you remember me please let me know. (See class names and email.)
---
Al Majer
Hi - Newly retired (Jan'05) and living outside of Tucson. I'd love to hear from old friends.
---
Jerry Kracow
I have recently relocated to Chiloquin, Oregon after 50 years in southern California. [next to Klamath Lake and south of Crater Lake]
---
Gina Stage Smith
We have recently moved back to California and opened a restaurant in Pine Mountain Club.
---
Linda Rogers
Hello to all. Hope life has been good to each and every one of you.
---
Jerry Harrison
I'm a Professor and Teacher. I have 9 married kids, 21 grand kids and 1 great. I enjoy hunting, fishing, 4 wheeling, rock crawling, traveling at home and abroad. I would like to make contact with my classmates.
---
Dave Gerber
I am just now appreciating this web site - Jerry Harrison used it to contact me, first time since '66 and now we are going to contact our other close friends. Thank you.
---
Betty Sutton Sendlosky
I thought Mr. Hymanson was great!
I have been working since high school, went to college in Florida for one year. I moved to Miami in 1979 and lived in Florida for nearly 20 years. I have two beautiful daughters, have been divorced for over 20 years and moved back to the central coast of California with the girls in 1997. Can't believe this much time has gone by and I have actually retired! I still keep really busy volunteering at a local hospital and working part-time back in the flower business, and I'm a home based travel agent.
---
Dennis Hammonds
Married 25 years with 3 children and 6 grandchildren. Retired after 31 years with the LAPD
---
Don Goetz
I live in Viet Nam most of the time, I only travel back to Australia once in a while.My Vietnamese family never wants to go anywhere else but Vietnam.They couldn't think of anything worse than leaving there country ore there extended family. I was captured once during the war, and got free somehow, than I stayed in the army in Vietnam from 1967 to 1969 this is when I knew that I needed to live in Vietnam.It is very hard for me here sometimes, but harder for me to live in a Western country.
---
Stephanie Awerkamp
Look forward to seeing old friends! Humane Educator. Please invite the best History teacher ever - Mr. Aronow
---
Harold Dieckman
Hello everyone from theSi Bonnais! I am unsure many would remenber me. I was not what you would call a popular kid in school. I played with a rock group called The Deltays In 1964-65 with Steve Stephonic, Merrill Bear, And Glen Eckes. We made our very first public appearance at a battle of the bands held in the VNHS gym. Also there was the band which had Bob ley on drums, Grant Webester on guitar and two others,which used to play the sports night dances. On the stage directly across from us was the band that had the song "BEAVER SHOT". I just learned of this web site on 8/18/11, and am really excited about it!!! I would LOVE to hear from any fellow Si Bonnais, especially the other members of THE DELTAYS, and Paul Globerson(whom I met in the first grade at Sherman Oaks Elementary), And Rusty Postel, who lived next door to one of my best friends, Jim Bursik. Again, Hello to everyone, and let me hear from you!!! Harold
---
Patricia Danam Lopez
I've been involved in the "Civil Rights Movement" since the 1960s. I was a face in the crowd in many walks, sit-ins, and marches. It was grueling sometimes, but our efforts helped change this country that needed changing. I'm glad that I have been involved. I'm preparing to write some books base on "oral histories" given to me about my American Indian (Native American) and Mexican American heritages along with my Danish and Russian heritages too. I have Arabic, Moorish and Jewish heritages on my Spanish side from Spain who came to now New Mexico in 1540. This is all on my mother's heritage. My Chinese,Mongolian, and Persian heritage from my Danish and Russsian father.
---
Gary Baker
After owning my own business for many years, I retired in 2008, to the simple life. Many people told me it would be impossible to retire and just play golf. Well, I have a single digit handicap, and continue to play golf 3 or 4 times a week. My wife and I will be celebrating our 40th wedding anniversary in December 2014. We have one daughter who recently got married. She is an elementary school teacher, teaching in Bakersfield, CA. My wife and I are looking forward to finally becoming grandparents in the next few years.
---
Robert Osterloh
I looked at some of these names. I remember Shirley Roe was really smart. I had a class with her once and we were partners on a project. In not so many words (these are my own words) she told me 'stay out of my way and keep your f**kin' mouth shut.' I think I got my one and only A on that job. I paint, but I still can't keep my f**kin' mouth shut. robertcosterlohart.com/
---
Jim Bonebreak
I remain partially retired, and enjoy traveling with my wife.
---
Linda Saxon
Retired and living outside Asheville NC. Enjoying life in the beautiful Blue Ridge Mts.
---
Donna Merkow Johnson
I was a special Ed teacher with LAUSD for 32 years lived Manhattan Beach and I loved it, retired moved to Ventura and love my life now. I'm golfing, ride a motorcycle, playmaj jongg and love my dogs. Friendships are my treasure. I've been blessed and enjoy everything. Life is great
---